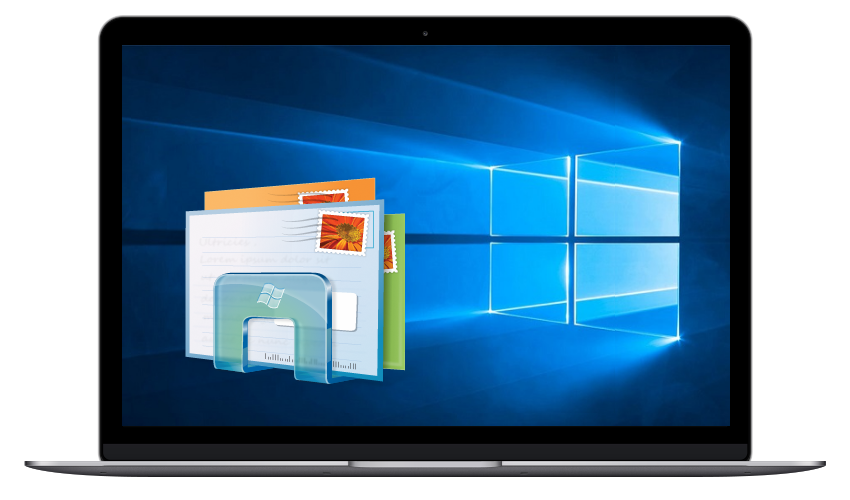 Windows Mail Restore Tool
for Windows 10, 8.1 and 7
Enables to use classic Windows Mail (formerly Outlook Express) software on your Windows 10, Windows 8.1 or Windows 7 computer. Automatic restore after system updates. Backup and Restore Windows Mail message store and settings. Multi-language support.
Windows Mail Core Features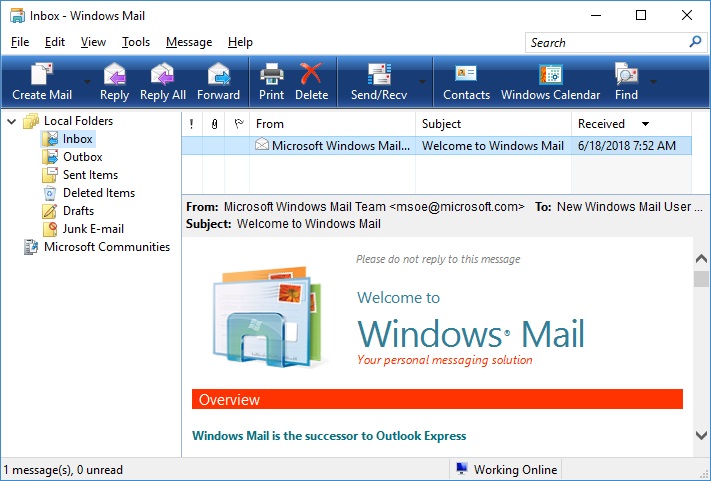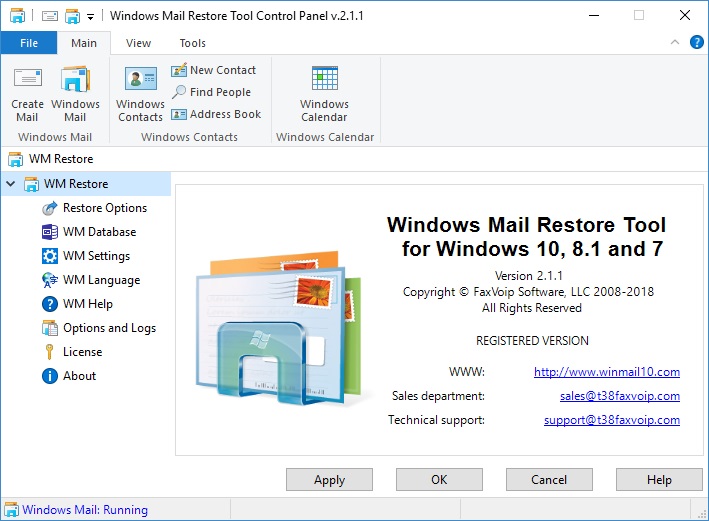 1

Sending and Receiving e-mails

Classic e-mail client formerly known as Outlook Express. SMTP, POP3 and IMAP support. SSL support. Sending digitally signed e-mail messages. Can be easily configured with Gmail, Hotmail (Live, Outlook.com) or any other e-mail service.
2

Simple MAPI support

Windows Mail is fully compatible with Simple MAPI messaging functionality. MAPI is widely used by standard Windows applications, mainly for sending documents using default e-mail program, e.g. Windows Mail.
3

Reading and Sending Newsgroup messages

Windows Mail is also a newsreader program with NNTP protocol support. You have all the tools you need to join newsgroups to trade ideas and information with other people.
4

Multi-language support

Available Windows Mail interface languages: English, German, French, Spanish, Italian, Japanese, Chinese (Simplified), Chinese (Traditional), Arabic, Bulgarian, Croatian, Czech, Danish, Dutch, Estonian, Finnish, Greek, Hebrew, Hungarian, Korean, Latvian, Lithuanian, Norwegian, Polish, Portuguese (Brazil), Portuguese (Portugal), Romanian, Russian, Serbian, Slovak, Slovenian, Swedish, Thai, Turkish, Ukrainian.
Windows Mail Features & Technologies
SMTP
Simple Mail Transfer Protocol (SMTP) servers handle the sending of your e‑mail messages to the Internet. The SMTP server handles outgoing e‑mail, and is used in conjunction with a POP3 or IMAP incoming e‑mail server.
POP3
Post Office Protocol 3 (POP3) servers hold incoming e‑mail messages until you check your e‑mail, at which point they're transferred to your computer. POP3 is the most common account type for personal e‑mail.
IMAP
Internet Message Access Protocol (IMAP) servers let you work with e‑mail messages without downloading them. You can preview, delete, and organize messages directly on the e‑mail server. IMAP is commonly used for business e‑mail accounts.
Simple MAPI
Simple MAPI is a set of functions and related data structures that can be used to add messaging functionality to Windows-based applications.
MAILTO
MailTo is an URI scheme for e-mail addresses. It is used to produce hyperlinks on websites that allow users to send an e-mail to a specific address without first having to copy it and enter it into an e-mail client.
NNTP
Network News Transfer Protocol (NNTP) is used to read and post newsgroup messages.
Chris Fischer
I want to say how happy I am, I found your solution as a replacement for Outlook Express. I never did like other software including Outlook as much as OE and when I moved to Windows 10 I was so disappointed to find the terrible programs that I found. Now I am happy with Windows Mail.
Mike Myers
I just want to say a big thank you for your WM Restore Tool. I had been stuck with Windows XP because I didn't know what I would do for an email program for my multiple email addresses. Was very easy to setup and now I can use Windows Mail on my new Windows 10 computer.
Tomas Vinton
We have used your T.38 fax solutions in our office for many years. And now you helped us to solve the problem with our e-mails. We tried to use many other solutions, but there is nothing better than the good old Windows Mail. Thank you Fax Voip for your excellent work.
WM Restore Tool Screenshots
Full screen
Windows Mail
Composing an e‑mail
Windows Contacts
WM Restore Tool Control Panel
Windows Mail Restore Options
Windows Mail Database
Windows Mail Settings
Windows Mail Language
Configure with Gmail (POP)
Configure with Gmail (IMAP)
Configure with Hotmail (POP)
Configure with Hotmail (IMAP)
Default e-mail program
Windows Mail Associations
Send To Mail Recipient